Have you accidentally deleted an important file and don't know how to get it back. Sit relax and read on this tutorial on how to restore any precious files that has been accidentally deleted or formatted from USB, memory card, internal or external hard drive, CD/DVD, different portable devices and other similar storage devices.
321Soft Data Recovery for Mac
is a powerful utility that helps user easily restore their trashed or formatted hard drive data in just a matter of time. It has dedicated recovery options to undelete files from USB, hard disk drive, Optical media, multimedia/mobile device and RAID configured drives.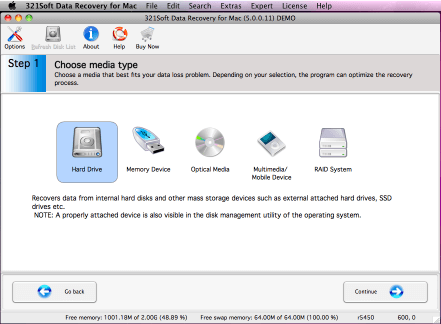 How to recover your important files and folders?
Once the file has been lost from the problem storage media, it could be difficult to restore or recover it if you keep using the drive for some time. Weather it has been deleted from the internal storage device or any external media, you'll need to ensure that no further copy/move operation has been performed since the time when data loss situation strikes. The software offers pretty simple and easy to use wizard based recovery steps so you could recover your data exactly in the form it was before deletion.

Supported File System and Storage media type:

HFS, HFS+, FAT16, FAT32, NTFS, Ext2/Ext3 file system, latest packet writing such as ISO9660.

321Soft Data Recovery for Mac includes powerful RAID constructor to rebuild or reconstruct damaged/corrupt RAID arrays. Later, it helps you to recover data from Mac computer RAID configurations such as RAID 0, RAID 1, RAID 2, RAID 5 and RAID 6.

The software equipped disk cloning/imaging utility to create a complete disk image or clone copy which you can use to perform recovery at any convenient time. Make sure the created image or cloned copy is stored at secure place that is free from virus/Trojan attacks.

At last, the software solely works on wizard based interface to let computer illiterate users recover their lost or deleted data like pros. Incredibly easy and WYSIWYG based navigations makes it clear to achieve maximum possible recovery in shortest possible time frame. You've the capability to slim the search results by defining parameters of desired deleted files you're looking for, such as their file types, file size or date and time you thing when the file was deleted.
Conclusion
321Soft Data Recovery for Mac is equipped with latest technologies and modified search engines to hunt for deleted, lost or formatted files from Mac OS X or higher. Software supports all the modern storage media such as RAID system or flash based storage devices. File preview before recovery works great with all type of multimedia and document files. Last but not least, you've one stop solution for all your data recovery needs for your Mac computer within the budget that anyone could afford.

Recommended utility for Mac OS X user to handle even worst situations of data loss. It also ensures maximum data security by using cloning/imaging features of this software. Manufactures set the price tag for this software is of $99.95 USD for a single user license.
Read More